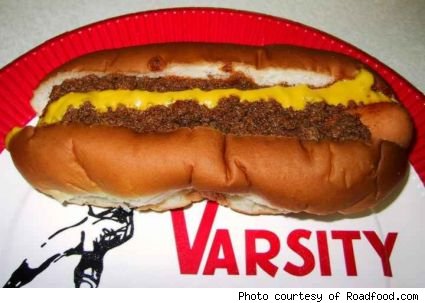 Greetings, folks, and welcome to the latest episode of "The Healthy Humorist®'s Guide to Unhealthy Eating Across America." (For those who don't know, my name's Brad Nieder. I'm a doctor/comedian/keynote speaker, and I travel the country doing my "Laughter is the Best Medicine" shtick at conferences and conventions. I also like to eat!) Some real Americana this week as I comment on two recent trips.
While in Atlanta recently, I hit the famous downtown Varsity. Billed as the world's largest drive-in restaurant, the Varsity is indeed huge. Multiple levels. Spaces for 600 cars (with car hops to serve them). And seating for 800 inside. They claim to be the world's largest single outlet for Coca-Cola and they sell over two miles of hot dogs every day (not to mention a ton of onion rings, 5000 homemade fried pies and 300 gallons of chili, all made from scratch)! The main items on the menu are hot dogs and burgers, and the main toppings are chili and cheese. I opted for chili dogs and a frosted orange drink ("F.O."). The chili dogs were okay. They don't compare to the Portillo's dog I had in Chicago a few months ago. But they were decent, as were the fries. The "F.O." was a tasty treat. My real lasting memory of this place, though, is the numerous cashiers at the gigantic counter who yelled at me, "What'll ya have? What'll ya have?"
It got me thinking about other restaurants where people have shouted at me. Gates Bar-B-Q in Kansas City came to mind, as the cashiers there greet all entering customers with a loud "Hi, may I help you?" And I've been to several sushi restaurants where the staff yells "Irasshaimase!" My half-Japanese sister-in-law informs me the phrase means, "Thanks for entering." (Miyake in Palo Alto, CA, is perhaps the standout in this department. The staff there also likes to dim the lights, turn on the disco ball and shout out a three-count ("Ichi! Ni! San! Sake Bomb!") as drunk Stanford students stand on chairs and chug their beer and sake concoctions.) Let me know what other spots you know that are famous for their "shout outs."
Anyway, the Varsity is worth a trip just for the experience. I found another such spot recently in Los Angeles. The Apple Pan was on my radar for showing up in Bret Stetka's article, "America's Best Burgers" for MSN City Guides. (Stetka, by the way, is a medical writer who seems to enjoy his food. I gotta meet this guy!) The place is an institution; it's been there since 1947. There's one U-shaped counter with the cooks and servers behind it in their old-school service caps. The cardboard-like paper plates seem eco-friendly, but I think they're just a throwback to the '40s. The servers like to pour ketchup on them for you for dipping. They also give you your burger wrapped in paper without a plate. I certainly don't rate it as one of the top burgers I've had. It was tasty but I could have done without the overly thick wedge of iceberg lettuce between the buns. My fries were lousy--burnt to too much of a crisp. The apple pie was room temperature and nothing special. But I enjoyed drinking my Coke from a paper cone in its own little metal holder. I'd go back to try the highly touted Hickory burger and to hope for a better batch of fries. And I'd encourage others to go at least once.
I hit the L.A. institution Spago on the same trip and had a tasty but way overpriced sandwich for lunch. But the real winner of this L.A. story was an institution visible as you descend from the skies into LAX: Randy's Donuts. If you haven't seen it from the air, you've seen it on screen, as it's shown up in a number of music videos and movies (most recently "2012"). It's the place with the giant 32-foot donut on the roof. But it's not simply a geographical landmark; it's a great donut shop! The cake donuts were good but the chocolate old-fashioned, glazed raised and coconut raised were outstanding! And I was eating them in the late afternoon when nothing was really fresh. Gotta go back and get 'em when they're hot.
So there you have it, folks. As always, thanks for reading. Contact me with your favorite spots. And be healthy! (But allow yourself to indulge a little bit!)
Until next time!